Modern Woman of 1927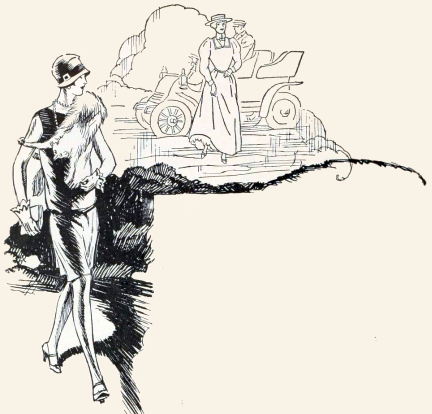 Modern is one of those fun words that changes each time it is used. What is modern and new today will be seen as old-fashioned in time. This wonderful piece of vintage advertising art hoped to establish the different between a modern woman of 1927 and the woman of just a few years before. Can you guess what they are trying to sell?
Would you have guessed it was silk stockings? In the mid-1920s, stockings were worn for warmth and were limited to wearing plain black or white cotton stockings. Black was worn in the winter and white in the summer. But, as hemlines rose, so did the desire to present a shapely leg. Silk stockings became the rage and a symbol of luxury.
This drawing depicts a woman in old fashioned dress stepping from a car and delicately crossing the street among rain puddles. In a much more sophisticated drawing style, we have a beautiful young woman in a more modern style of dress showing off her shapely legs covered not in opaque cotton but transparent silk. Ahh, the luxury of modern extravagance.
Ahh, that is only the back story for this advertising art. The product being sold isn't stockings, modern dresses or anything designed specifically for woman. Like our earlier find of a fun dog image, this drawing was designed to sell the services of an advertising firm.
Trivia aside, this drawing of two women is something I thought someone might find useful. It wouldn't take much effort to separate the two woman. But, I think the message of modern vs old fashioned is so timeless that this drawing could always be used that way.
Thank you for visiting Free Vintage Art. Don't forget to Pin your favorite images!