Hector the Dog
Meet Hector. Hector is a dog. He is also a bit of vintage advertising art. In this case, Hector is an old dog being taught new tricks. It must have been an exciting time early in the 20th century. So many new inventions and technical innovations were taking place that advertisers had to work much harder than we do to promote a new product.
Imagine trying to promote the wonders of a new oil heating system which requires the entire house to be upgraded. Electricity?
Hector was drawn to promote an advertising company to manufacturers seeking someone to help them bring their new products to market. He is designed to look intelligent as he is wearing a pair of glasses and smoking a pipe.
Poor Hector though is being asked to master balancing on a chair, smoking a pipe, playing ball, playing with a hoop all while promoting and celebrating the event of whatever new marvel has come along.
However you might be able to use this vintage dog image, I think he's just fun and should put a smile on your face. Hector is a transparent png image but I've added a white background here so you can see him better.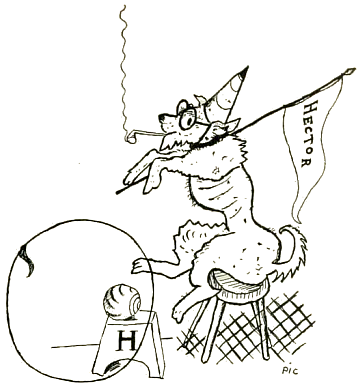 Thank you for visiting Free Vintage Art. Don't forget to Pin your favorite images!