Making Gingerbread Men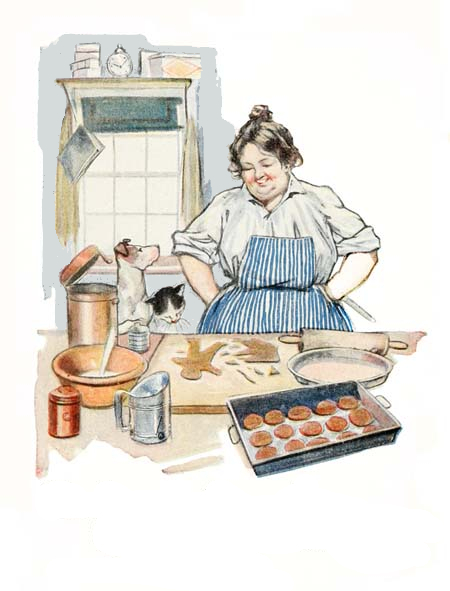 With a pair of furry helpers, a rosy-cheeked lady creates a gingerbread man cookie. With a tray of regular cookies in the pan and ready for baking, she has used some extra cookie dough and a knife to fashion a gingerbread man.
The picture is sweet but the addition of a dog and a cat as helpers really makes this one of my favorites. The artist was Robert Gaston Herbert (1873 – 1954). The drawing is from a 1910 children's book. Much of Herbert's work remains under copyright. However, this illustration is in the public domain in the United States since it was published before 1923.
I think it could be used as a wonderful card, perhaps to accompany a care package including homemade cookies. There was a bit of writing at the bottom but I thought everyone might find it more useful to be able to add their own message.
Have fun with it and do drop me a line to see your ideas for this fun illustration that shows a happy lady and her two pets making gingerbread men.
Thank you for visiting Free Vintage Art. Don't forget to Pin your favorite images!