Daisy Chains with Mom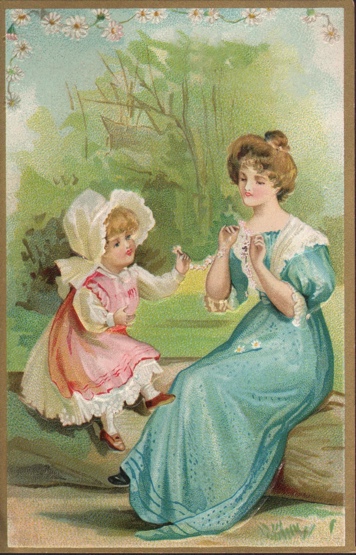 Some of my favorite vintage postcards are the ones that were designed to be sent for no particular reason. They could be used just to say hello, say I'm sorry, Happy Birthday, just about anything. The subject matter varied from flowers, animals and sweet People Images like this card has.
Now before I go further, I have to admit that I am not 100% certain that this vintage postcard of a mother and daughter is truly in the public domain. The scan was sent to me by an online friend. It has a general look and feel of a postcard from the early 20th century. It was rare during that era to see a postcard with a copyright date – the absence of a copyright notice (assuming the card didn't have one, would put it in the public domain).
A mother and daughter are sitting outside on a pretty day full of blue skies making daisy chains. I never learned how to make then myself, but I know there is a way to weave the pretty white and yellow flowers together into chains.
The mother is wearing a pretty turquoise dress with beige lace trim. Her daughter is wearing a sweet pink pinafore and lacy under-dress.  The little girl is also wearing a large bonnet.
Both mother and daughter have rosy cheeks and red lips. Oddly enough, the daughter's lips are more prominently colored than her mother's. I guess some things never change that way. lol
This family image depicts one of those quiet moments between a mother and daughter that can become forever etched in our memories. It is those special memories that involve a gift of time that I think we all treasure the most. I think this would be a wonderful image to include on a scrapbook page for Mother's Day or with a special picture that holds a similar sentiment.
Thank you for visiting Free Vintage Art. Don't forget to Pin your favorite images!