Lady with Collie Drawing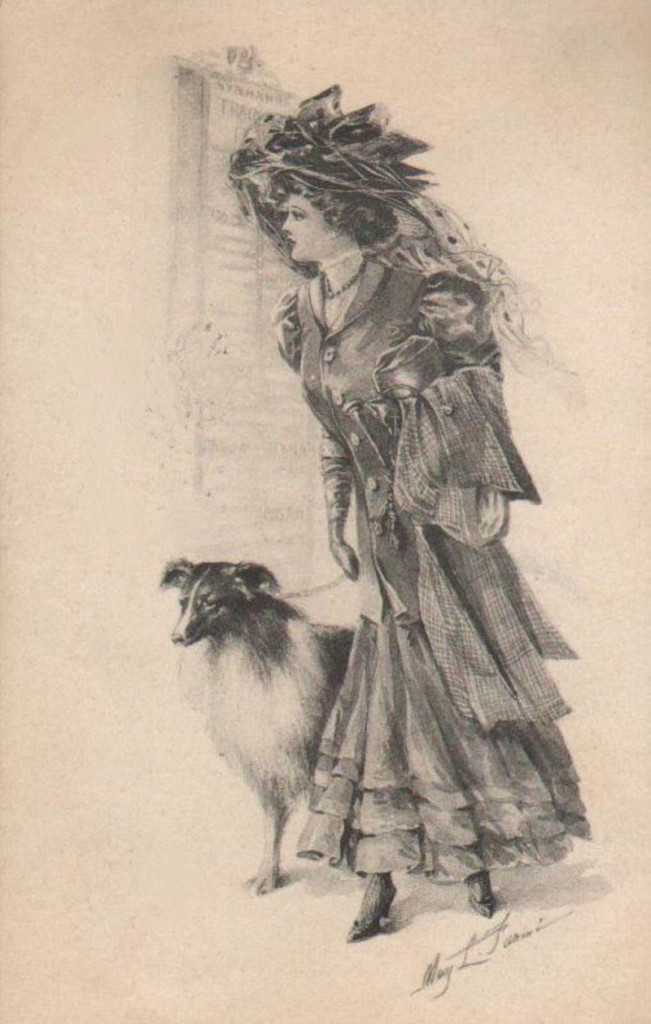 While this vintage postcard is signed, we've been unable to fully decipher the name. It looks something like May L Furint but we've found nothing online for a name spelled that way. If anyone does know who drew this lovely picture, please let us know. It seems a shame that Lady with Collie is a bit of an orphan work.
It was mailed from Dayton, Ohio in November of 1910 which would mean it was most likely printed prior to 1923 and therefore in the public domain in the United States.
Lady with Collie is a wonderful example of early 1900s apparel. We see a slightly raised hem which displays the pretty lady's ankles which a scant few years earlier proper ladies kept out of view. She's wearing a highly tailored, button-up jacket and carrying a tweed overcoat. Her tall and elaborate hat includes a veil. Like all ladies of her day, she's wearing elbow-length gloves that match her shoes and purse.
Accompanying the lady is a collie dog on a leash.
This vintage fashion image looks a bit sketch like and the paper is smudged here and there. After all, if you were over 100 years old, you might carry a few smudges too.
Thank you for visiting Free Vintage Art. Don't forget to Pin your favorite images!