Vintage Wallpaper Ladies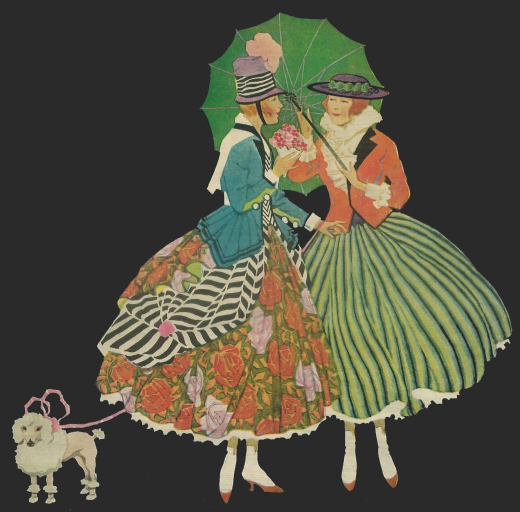 While this isn't one of our typical vintage wallpaper pictures featuring a single design or coordinating designs, it is a fun piece that was on the cover of a wallpaper catalog from 1917.
Wearing skirts reminiscent of wallpaper designs, these two vintage wallpaper ladies and their pet white poodle were drawn to entice early 20th Century homeowners to purchase their wallpaper from the Star Peerless Wall Paper Mills. I love this clever marketing image, don't you? Instead of a decorated room like most wallpaper companies used or even a fairly blank cover that seemed so common of the time, Star Peerless used this colorful graphic to promote the use of color in people's homes as well as their attire.
Both ladies are wearing large skirts with a white lace crinoline. Their skirts are quite reminiscent of wallpaper though neither design was available in the catalog. One dress has big red and pink flowers and the other is striped with several shades of green. They both have jaunty hats that match their garments.
One lady is carrying a small bouquet of red and pink roses and the other is holding a green umbrella over both of them. The white poodle has a large pink bow and leash that matches his mistress's skirt and hat.
The primary colors used in this vintage illustration are red and green though there is a strong blue and black influence as well. The piece was originally printed on a dark gray, mottled sort of color. The original paper catalog had a few paint or water drop and other smudges. I changed the background to a solid color though based on the design, it shouldn't be too hard to remove the entire background and use your own.
Thank you for visiting Free Vintage Art. Don't forget to Pin your favorite images!