Lady Writer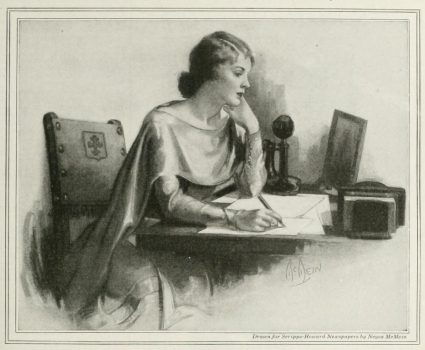 I love this vintage advertising art of a lady writer. But, I bet you can't guess what it was promoting….Scripps-Howard Newspapers. They wanted women to know that "Among the several hundred women writers on the staffs of SCRIPPS-HOWARD Newspapers, there are authorities on every subject of feminine interest, from mending a hot water bottle to patching a broken heart."
Of course, one would could infer from that description that there were no women writing about the news of the day – they were relegated to "subjects of feminine interest." Guess, even then, they believed women wouldn't be interested in what was happening outside of their own homes.
Rather than looking like a professional writer, the lady in this drawing looks like she is perhaps pondering her own broken heart.
According to Archive.org, the periodical in which this advertising image was used is no longer in copyright.
Thank you for visiting Free Vintage Art. Don't forget to Pin your favorite images!