Vintage Fall Image
This charming little boy looks as if he is having a fun time. Carrying a pumpkin almost as big as he is, he looks ready to celebrate Halloween or Thanksgiving. It appeared in an  a children's magazine entitled Little Folks Monthly Magazine. The illustrator was Bess Bruce Cleaveland (1876 – 1966) who was an art teacher and a well-regarded illustrator of children's books. Her favorite subjects were children and animals.
There's not an animal in this vintage fall image but there certainly is a sweet little boy. He's wearing a white sailor's shirt with a red sash and dark brown panants. He's standing in a field full of dried corn stalks and pumpkins. I think it would make a beautiful image to use with a Halloween or Thanksgiving Day Card.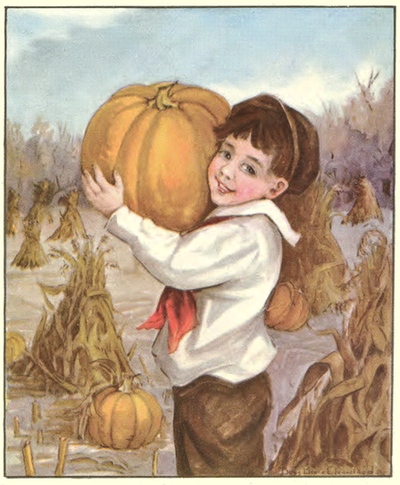 Thank you for visiting Free Vintage Art. Don't forget to Pin your favorite images!