Patriotic Thanksgiving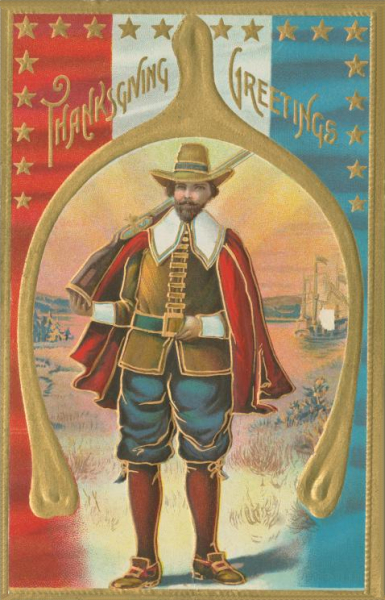 Just realized that I didn't post this entry when I wrote it. Probably too late for anyone this year, but hopefully, next year someone will find it useful.
I have seen several versions of patriotic Thanksgiving cards in this series. I'm not 100 percent certain of the publication date for this one but based on the others it was during the first decade of the 1900s.
It was published by the HSV Litho Company. The back of the card said that it was published in America. The only information I have found so far about HSV is that they were based out of New York City.
All of the cards in this patriotic Thanksgiving Day series appear to have been in the 800 series as they all bear that number. The other two cards I saw had the same red, white and blue background, stars and large wishbone. One had a charming little girl saying grace over her dinner and the other had a large, stately turkey. All three have "Thanksgiving Greetings" printed on the front of the card.
I wish I could have found more about this patriotic Thanksgiving series of postcards as they may have an interesting story behind them. Perhaps they were sold together in a box or were some sort of series of cards that were produced over several years. It was one of the other postcards, which was sold on eBay, that had a postmark from 1908.
On this Thanksgiving Day postcard, we have a proud-looking Pilgrim dressed in his best clothing. His ship is off the coast behind him, implying perhaps that he has just arrived. Sadly, there's a bit of the ship missing from the card but I'm thinking that since the pilgrim is embossed with edges of gold that he might be fairly easy to isolate for someone with some decent PhotoShop skills.
I love the imagery of the wishbone. It harkens of the turkeys that so many of us enjoy on Thanksgiving Day. But, it also serves as a reminder of the great leap of faith it took those early settlers to leave their native countries in search of a new home. Did they have any idea how hard their lives would be when they had to become fully dependent upon their own abilities?  The couldn't go down to the mercantile and purchase some flour, sugar or rope…they had to make it themselves or find an alternative.
Here's hoping that everyone had a safe and Happy Thanksgiving in 2013.
Thank you for visiting Free Vintage Art. Don't forget to Pin your favorite images!