Jack-o-Lantern and Baby
It was the cover image on the November, 1911 edition of Little Folks Monthly Magazine. The illustrator was Bess Bruce Cleaveland (1876 – 1966). Cleaveland was an American art teacher and illustrator. Much of her work features children and animals – her favorite subjects.
This Halloween illustration features a young child approaching a jack-o-lantern. It is one of those fun illustrations where it could be interpreted several ways. Is the baby afraid of the carved pumpkin? It's cheeks are red and it appears startled in mid-step. Or maybe the child is excited to meet someone new?
Additionally, this Halloween illustration could easily be modified to simply show a child, wearing white standing on green grass.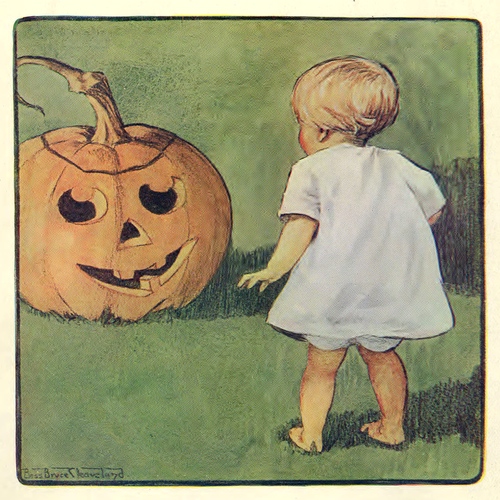 Thank you for visiting Free Vintage Art. Don't forget to Pin your favorite images!