The Season's Greetings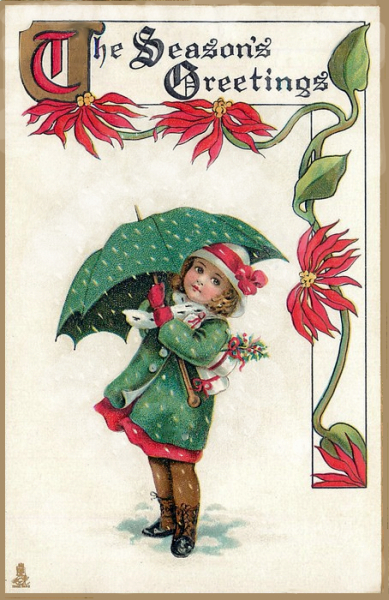 Betcha smiled when you saw this sweet little face. Sometimes I like the Edwardian era Christmas cards more than any other era. Santa Claus, in his red suit, was still fairly new, so instead; it was flowers and children who often adorned Christmas cards. Many of the cards from this time period don't even look like Christmas cards. Thankfully, this one does and is virtually guaranteed to charm your socks off.
It was published by Raphael Tuck and Sons in 1913 and printed in Saxony. There were ten different cards in the original set, which is somewhat unusual for Tuck – they usually sold cards in packages of six and often the cards where not all different. They all had slightly different messages, this is the only one which said "Season's Greetings".
This greeting card features a charming little girl braving a snow storm to deliver Christmas presents. Her green coat matches her umbrella nicely. She's wearing a white hat with a big red bow that matches her dress which just peeks out of the bottom of her coat. The Season's Greetings message is decorated with vining poinsettia leaves and flowers.
Thank you for visiting Free Vintage Art. Don't forget to Pin your favorite images!