Santa Postcard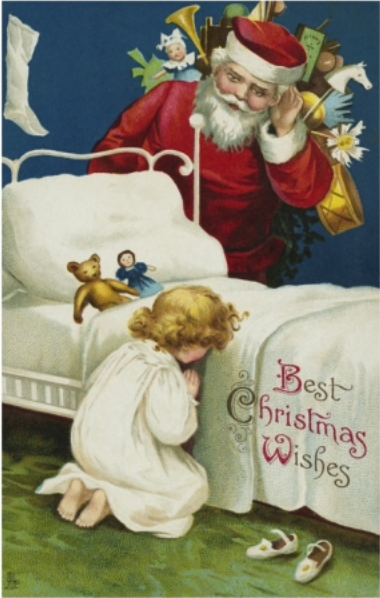 Today I am sharing with you another wonderful vintage postcard by the artist Ellen H. Clapsaddle (1865-1934). This is the second of her charming illustrations I am sharing with you. (The first was Happy Thanksgiving.)
This Santa postcard is more representative of Clapsaddle's work than the first one was. Clapsaddle is know for including sweet-faced children in her work. Granted we can not see the face of this child, her curly hair and bare feet peeking out from beneath her night gown, provide plenty of charm.
How fun that the little one is so intent on her evening prayers that she seems totally unaware that Santa Claus is standing mere feet away trying to overhear what she is saying. Perhaps she is asking that Santa come to her house and leave a new dolly, hobby horse, drum, trumpet, pinwheel or one of the other new toys he has already in his pack. We see that she already has a dolly and a teddy bear as they are laying in her bed on her pillow.
Clapsaddle put the entire scene on a plain blue background but breaks the uniformity with a white stocking hanging behind the white iron headboard. It is a shame the headboard railing goes up into Santa's beard but I think with a bit of careful editing with a clone tool, it could be removed and you could isolate the jolly old elf from the rest of this vintage Santa Postcard.
Do let me know if you would like to see more vintage postcards from Ellen Clapsaddle and I will make a special effort to share them with you.
Thank you for visiting Free Vintage Art. Don't forget to Pin your favorite images!