Victorian Christmas Postcard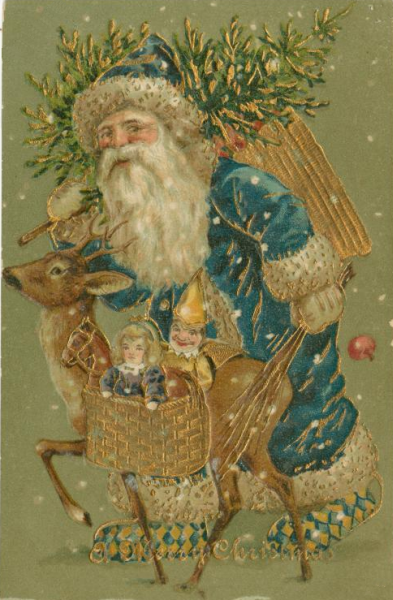 I am such a fan of vintage images like this wonderful Victorian Christmas postcard. It was mailed a few days before Christmas in 1908, so the card was most likely printed before that.
When I think of Christmas, I most often see old-world style images of Santa Claus, typically from Germany. It did not really surprise me when I flipped this card over and saw that it was printed in Germany. It just has that feel to it, don't you think?
This Victorian Christmas card features Saint Nicholas carrying a small Christmas tree and being accompanies by a small reindeer. The reindeer has a small pack and is carrying two dolls. Saint Nicholas is dressed in turquoise and white, rather than red. His footwear looks a bit like a pair of gold and turquoise argyle socks to me. Unfortunately, it is hard to read, but at the bottom of the card we are all wished "Merry Christmas" in gold lettering.
I hope you find this Victorian Christmas postcard as charming as I do. I cleaned up some of the rough edges for you and resized it so it should print to a four inch by six inch postcard or on nice cardstock for using as a Christmas card.
Thank you for visiting Free Vintage Art. Don't forget to Pin your favorite images!