A Visit From Santa Claus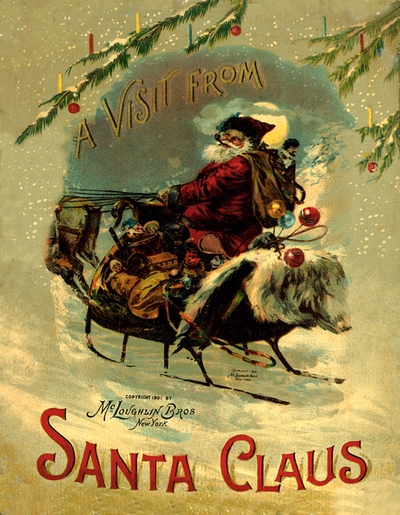 Children from the early 20th century must have been as familiar with McLoughlin Brothers as our children know Mattel, Disney and Nintendo. The McLoughlin Bros publishing company of New York published so very many of the wonderful children's books which provide source materials for Free Vintage Art and ReusableArt.com. Today's find is a cover from one of those wonderful books – A Visit From Santa Claus. The book was published in 1901 and included this wonderful piece of cover art.
If you are a purist, you might find some extra snowflakes or other inconsistencies from the original cover – there was some wear and tear that needed repair. But, for the rest of us, we have a wonderful drawing of Santa Claus, surrounded by toys and riding his sleigh. Christmas decorations and a paper chain garland along with toys, a fur wrap and his big sack almost don't leave enough room for the jolly old elf himself. His head is turned to face us as if he knew someone was watching. Smoke curls from his pipe into the cold night air. And, there's a bit of German influence with the entire scene as we have colored candles on pine boughs decorated with red Christmas ornaments and fallen snow.
All and all, a wonderful Christmas illustration. Do let us know if you use A Visit From Santa Claus so we can show off your work to everyone else.
Thank you for visiting Free Vintage Art. Don't forget to Pin your favorite images!