Happy Thanksgiving
If you like Vintage Holiday Images then you are probably already somewhat familiar with this artist's work. While you may not know her name, generations of families have been sending each other holiday greetings which feature the artwork of Ellen H. Clapsaddle (1865-1934). Clapsaddle is recognized as being the most prolific postcard and greeting card artist during the time many consider the Golden Age of the art/souvenir card.
Thanksgiving Greetings
This vintage postcard offers a Happy Thanksgiving wish along with a basket full of fruit – apples, pears and grapes.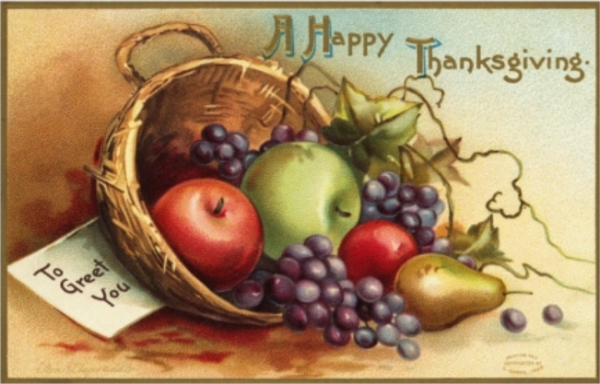 I like that this postcard strays a bit from the traditional. No turkey, pumpkins or fall harvest type imagery. Instead, we have a bountiful amount of luscious fruit spilling out of a woven basket and a simply Happy Thanksgiving holiday greeting.
Free Vintage Thanksgiving Art
Ellen Clapsaddle's work is in the public domain because seventy years have passed since her death. Enjoy this Thanksgiving Day postcard and know that it is safe for virtually any creative use.
Thank you for visiting Free Vintage Art. Don't forget to Pin your favorite images!