Lady in Red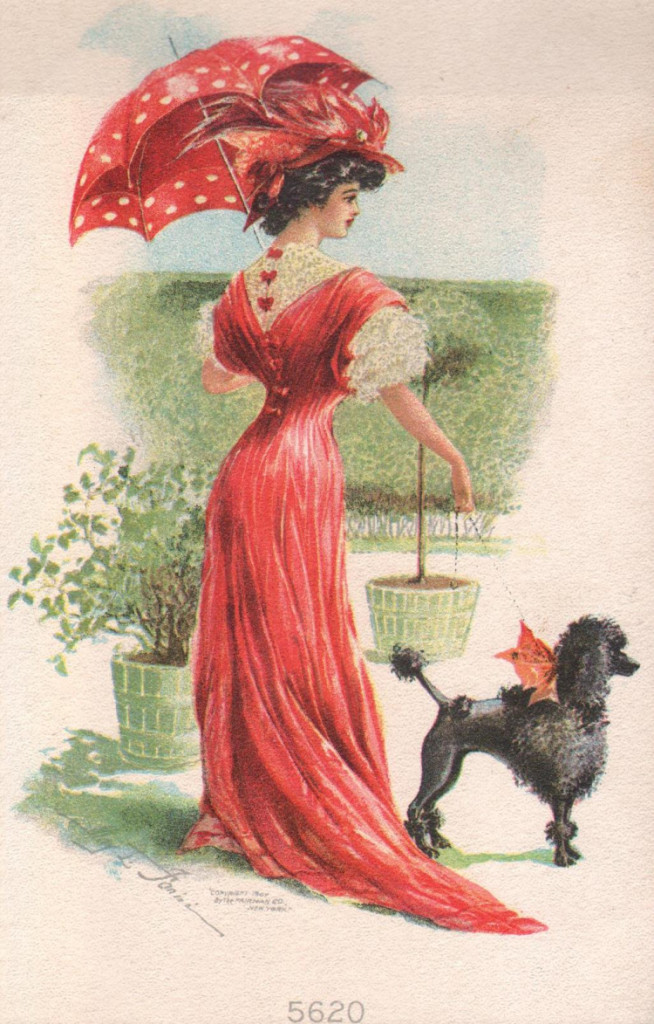 The Fairman Company of New York published this bright postcard in 1904. Despite having only four primary colors – red, green, beige and black, it includes much detail and offers several images for crafters.
In the center of this vintage postcard is an elegant lady in a long red dress which drapes on the ground, almost like a small train. The dress has delicate, tiered lace sleeves and a lace yoke.
Even more dramatic than her red dress, a large and elaborate red hat is saucily perched upon the lady's head. Her dark hair and the black poodle on a leash are the darkest elements of the postcard.
The poodle is extremely well-groomed and wears a large red ribbon that perfectly matches her owner's dress and hat.
The fair-skinned lady in red is protecting her complexion from the sun with a red and white umbrella. The pair are walking in what looks like a formal garden. A high hedge of green forms a wall in the background and two potted bushes line the path on which she is walking.
Unfortunately, I can't quite make out the signature of the artist. I would have to guess and guess wrong. Hopefully, someone who recognizes the signature might take a moment and let me know so that I can share it with everyone.
This vintage postcard is identified with the inventory/part number of 5620.
Thank you for visiting Free Vintage Art. Don't forget to Pin your favorite images!