Lady Say Yes
Does the Lady Say Yes? Is she playing hard to get or saying no. This vintage art comes to use from The Federal Art Project, a part of the New Deal cultural programs that provided work opportunities for artists and graphics designers. This watercolor is from a proposed poster design for a play.
Art Project workers are credited with developing a silkscreen process that allowed for mass-produced paper copies to be produced from the original design. Over 2 million posters were produced for the Theatre Project.
This poster art was designed to promote an upcoming Max Dill play entitled "Lady Say Yes" in 1937. Tickets were going to be priced between 15 and 55 cents for regular seating and a lofty $1.10 for a box. As it was a working drawing, you can see the pencil guidelines too.
I'm guessing based upon the image that the fellow was an officer in the Civil War and both he and the lady he is wooing are quite wealthy.
I hope the lady doesn't mind too much, but, I fixed a few water spots that were on her green and yellow dress's train. If only it were that easy to remove spots off of real clothes.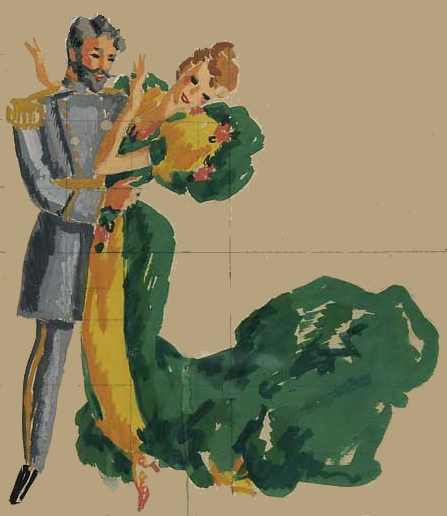 Thank you for visiting Free Vintage Art. Don't forget to Pin your favorite images!