English House Coloring Page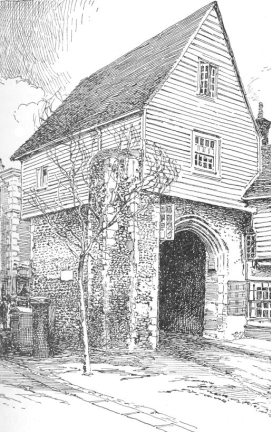 Here we have another lovely coloring page from the artist Gordon Home (1878 – 1969) from a 1912 book about visiting various historical places along an old Roman roadway in England. This building, like so many of the other depicted in the book most likely has great historical significance but if you were to read the text, it is virtually impossible to figure out which buildings are included among the illustrations. Such a shame the author did that. But, the good news is that since the work was published prior to 1923, all of these wonderful illustrations are in the public domain in the United States.
Like the others in this group, Town Bridge Coloring Page and English Countryside Coloring Page, this is perhaps a coloring page more suited for older children or adults. It has plenty of opportunities to turn this into your own creation but it does have relatively small places in which to add color.
I am not entirely sure, but I think this English house was part of a defensive perimeter wall around a town. Anyone entering the town had to go through the passage which is enclosed on the lower level of the building. At the very least, the opening was a place the owner of the home could ride his horse and/or conveyance in to arrive home protected from the elements.
Once again, this English house coloring page is in the public domain in the United States. You may want to be careful of using it for commercial purposes outside of this country. I have re-sized it to print within a four inch by six inch paper, making it postcard size.
Have fun as we visit some of the great places in England together as we follow the trail of the author of this book and enjoy the great images that can easily be turned into coloring pages by Gordon Home.
Thank you for visiting Free Vintage Art. Don't forget to Pin your favorite images!