Rose Coloring Page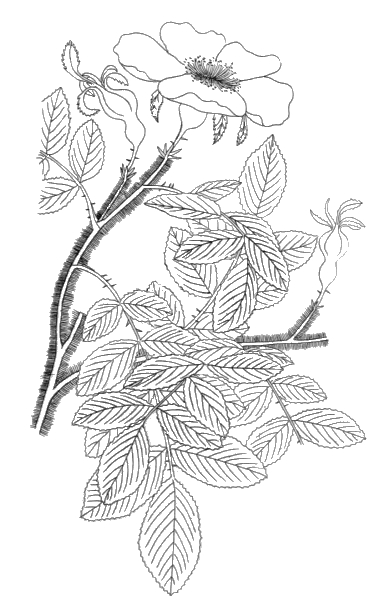 This was the only illustration in the book. How lucky were we that it was such a good one? I think it makes a great rose coloring page, don't you?
This vintage flower drawing is of the rosa rugosa plant and it was shared with the world in 1820, when this book by John Lindley (1799-1865) was published. It was, unfortunately, not made clear if the author was also the illustrator. But, with a publication date of 1820, I'm fairly certain that the illustrator died over 70 years ago (the standard most countries use in determining copyright status).
It took a bit of editing to get rid of the yellowed page to give you the nice clean image you see here. A professional might have done even better for you but well, I am learning as I go along.
The rosa rugosa is native to the shorelines of eastern Asia and can often be found on sand dunes in southeastern Siberia. It is a hardy plant, easily propagated and disease resistant. Those attributes also can make it become an invasive species.
The flowers are generally dark pink in color with yellow centers. Their sweet scent makes then a favorite for pot-pourri, particularly in China and Japan where rosa rugosa has been grown for 1,000 years. The hips are somewhat unique in that they are large and resemble tomatoes.
Of course, with this being a rose coloring page and not a botanical print, you can make the flowers and leaves any colors you want.
Thank you for visiting Free Vintage Art. Don't forget to Pin your favorite images!