English Countryside Coloring Page
Even after reading the book where I found this great coloring image, I'm not quite sure what road in England it is. The author seemed a bit into waxing poetic and never actually said something like…this is a picture of ___. But, for our purposes, I think this drawing by Gordon Home (1878-1969) could represent just about any tree-lined country road anywhere.
Under American copyright law, this image is in the public domain because it was used in a book the was published prior to 1923. Not all of Home's works are in the public domain but I think we got lucky with this one – it is a real gem.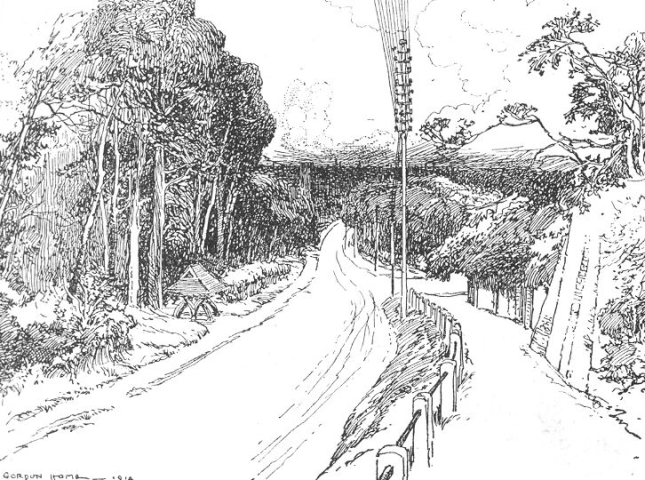 This English Countryside coloring page has been re-sized to print on a four inch by six inch postcard size piece of paper. It shows a roadway that travels into the mountains and is lined by trees. Even though it was drawn in 1912, the image includes fully wired telephone poles. A fence lines one side of the roadway and there is some odd little structure on the left-hand side. Reminds me a bit of a tiny pagoda.
Our first coloring page, Trees to Color has a group of beautiful trees. This image has an entire landscape just waiting to be colorized and turned into your own. This one reminds me a bit of the back country roadways in the Blue Ridge Mountains of North Carolina, Tennessee and Georgia. Winding roads, surrounded by trees, sometimes there will be a bit of fencing or guardrail and often the only sign of habitation is a mailbox at the end of a dirt road that leads only deeper into the woods.
I see this more as a coloring page for adults or older children. There is plenty of things to color but there aren't larger areas to fill with a wash of color. It might even inspire someone to paint a watercolor painting or draw their own version. Whatever you decide to do with this vintage countryside coloring page, have fun.
Thank you for visiting Free Vintage Art. Don't forget to Pin your favorite images!