Town Bridge Coloring Page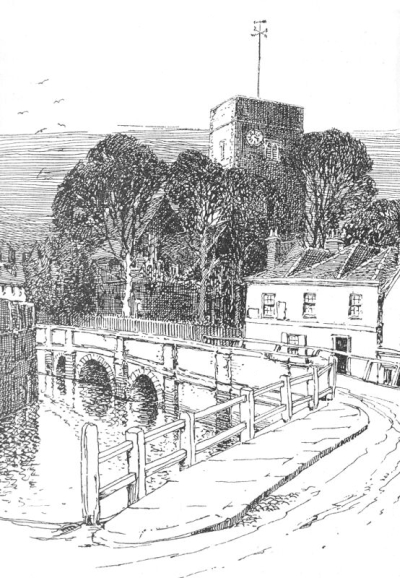 There might not be as much to color in on this great vintage image as some of the other vintage coloring pages I have shared with you but I think this one could become striking if colorized with a light touch. It might frustrate younger children in that it doesn't have large open areas to put a wash of color.
This is another of the great illustrations from Gordon Home (1878 – 1969) that was included in a book featuring the author's journeys through the English countryside. The illustrations were not labeled and it is unfortunately a bit of a guessing game to determine what city or town this could be. Much of Home's work remains under copyright but the publication of this book prior to 1923 puts it in the public domain in the United States.
I have called this a bridge coloring page because the bridge is the central focus of the drawing and just exudes old world charm. We can see three stone arches that allow the water to pass under the bridge and how a wooden fence leads into a stone fence on the one side and a picket fence on the far side. A nice-sized home and what appears to be a church or a school are also prominently on display. To me, there is just something quiet and serene about the entire drawing.
This vintage bridge coloring page is ready to be printed or incorporated into a digital creation.
If you happen to recognize the location of this drawing from 1912, I would love to hear from you.
Thank you for visiting Free Vintage Art. Don't forget to Pin your favorite images!