Visiting the Beach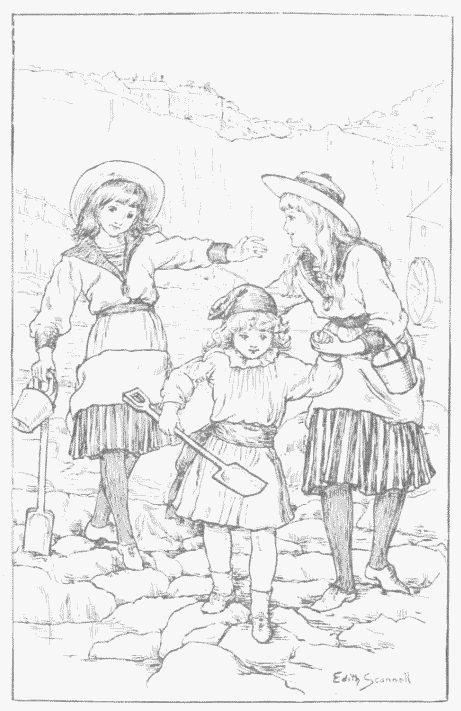 This charming coloring page image is by the wonderful English artist Edith Scannell. She lived from 1852 to 1940. She is primarily remembered for her wonderful portraits of children.
This is the only illustration in the entire book entitled Lena Graham. I was disappointed to see the frontispiece is the only illustration by Scannell as it is so lovely. I do believe the setting might be West Meadenham in England where the beaches are both rocky and sandy. Of course, the town name appears to be the creation of the author but now we have a name for the imaginary beach the children are exploring in this vintage illustration.
This darling work includes three young girls visiting the beach. With shovels and pails in hand in hopes of collecting a few small crabs, the trio work their way over some slippery rocks on their way to the sand. Don't you just love the sailor dresses the two older girls are wearing? The oldest girl is holding the hand of the youngest to help her and the middle girl is also reaching out to balance herself. Oh, I do hope they made it down to the sand without falling and dirtying their dresses or running their hose.
I cleaned up the image a bit to even out the background and make it a better printable for you.
Thank you for visiting Free Vintage Art. Don't forget to Pin your favorite images!