Valentine Sweethearts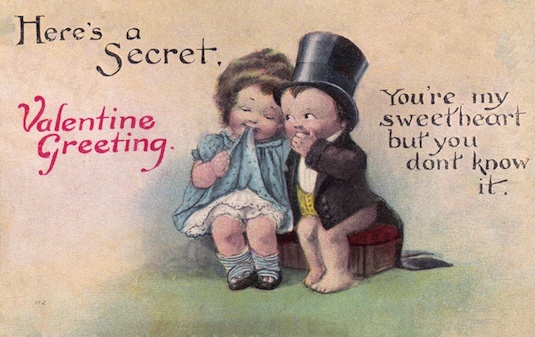 Isn't this a sweet little Valentine's Day postcard? It dates back to the early 1900s. I do not have an exact date. I do know the postcard does not display a copyright date. I also know that it was among a personal collection of postcards that all pre-date 1923. In other words, I am 99% sure this card is fully in the public domain.
With that out of the way, now we can talk about how cute this vintage Valentine's Day postcard is.
On it we have a little boy wearing a top hat and tails but no pants – yes, he appears to have no pants on and he is barefoot too. He is sitting next to a little girl in a blue dress with a white petticoat. She has the edge of her dress in her mouth – she appears quite nervous. She is wearing maryjane shoes with little pink accents and blue and white striped socks. The little boy reminds me of a Kewpie doll.
The little boy is revealing a deep, dark secret…that he is totally smitten with the little girl.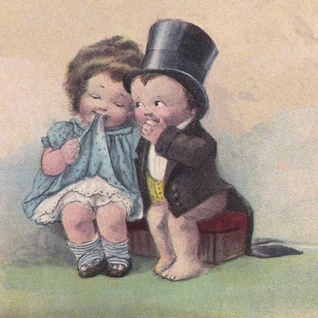 I think the two children are so very cute that they could be used for more holidays and themes than just Valentine's Day. Don't you?
So, I've gone ahead and edited away the Valentine greeting and squared the image off.
Hopefully, you'll find it something worth using in your own project.
Thank you for visiting Free Vintage Art. Don't forget to Pin your favorite images!