Black Cat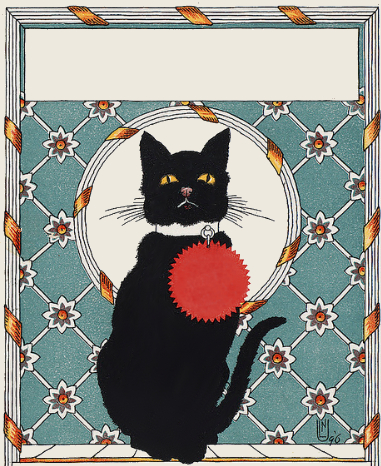 This black cat drawing is a cover image from the American literary magazine of the same name. It was published between 1895 and 1922 in Boston, Massachusetts. This particular bit of cover art comes from the May 1896 edition.
I've taken the liberty of editing this image a bit for you. The medallion on the black cat's collar originally had "5 Cents", the price of the magazine. Now you can add anything you would like. The box at the top of the page contained "Black Cat" – the name of the magazine.
Our black kitty sports a white color and is standing in front blue, white, and orange/yellow floral repeating background. The background reminds me a bit of a trellis or fence with flowers growing on it.
The black cat sits so regally despite the indignity of wearing such a large medallion. His whiskers are fully extended and show just how bit the cat is.
If you were more patient or skilled at photo editing than I am, I suppose you could remove the medallion as well as the background to isolate just the black cat. Wouldn't he be even more striking without the background.
Thank you for visiting Free Vintage Art. Don't forget to Pin your favorite images!