Party Animal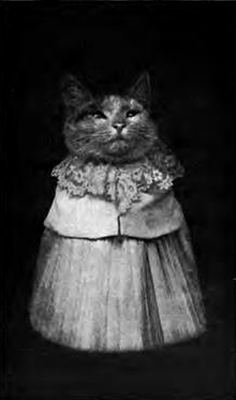 Isn't she lovely? Isn't she wonderful? All dressed up and ready to party, this sweet little party animal.
It's rare to find such fun photographs that pre-date 1923 and are in the public domain. I wish the quality were a little better but I think this oh-so-cute kitty packs plenty of charm anyway. This dressed cat photograph is from 1911 and a charming book full of cat stories, each with a dressed kitty picture to match. I could just imagine trying to get either of our kitties into an outfit like that much less pose for such a lovely photograph.
All hail for this is the Queen of all the Kittens and she is hosting a grand party. Everyone is invited, "from the biggest to the littlest, from the oldest to the youngest, from the blackest to the whitest."
With a reminder to wash their paws and shine their fur and leave their naughty tricks at home, all the kitties of the kingdom were invited to the Queen's party. Oh, the excitement.
Wearing a shimmering skirt, perhaps of silk, the Queen Kitty gazes regally at the camera. She's wearing a light-colored wrap the gently drapes off of her shoulders. A bit of pretty lace around her neck and she truly looks the part of a party animal – at least if one were going to a genteel and refined party.
Did I mention this dressed kitty picture is copyright free in the United States. I do hope someone does something super cute with it and shares it with all of us. I can't wait to see what one or more of you come up with.
Thank you for visiting Free Vintage Art. Don't forget to Pin your favorite images!