White Persian Cat
Minnie Rosa Bebb was an English painter who appears to have primarily painted charming pieces that featured animals. I found several examples which included white Persian cats and kittens, so perhaps she shared her home with several of these beautiful kitties. Many of her paintings appear to have been humorous works of groups of kittens, usually on tables, getting into mischief. Anyone who has ever shared their home with kittens knows the kind of trouble they can get into.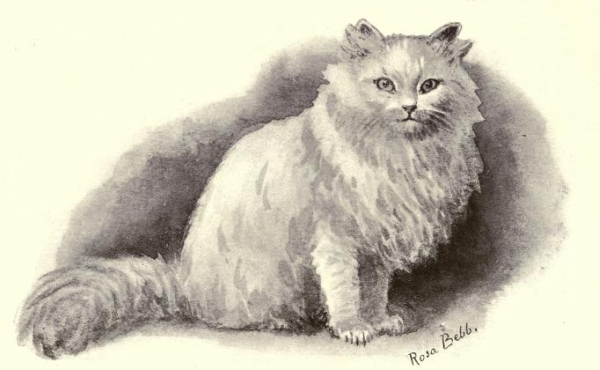 Rosa was born in 1857 in Stratford-on-Avon. Her works exemplified the Victorian ideal of a pampered pet, particularly cats and dogs. She also painted lovely landscapes, usually with animals and equally as sentimental. Queen Victoria is said to be one of her admirers and owned several of Bebb's paintings. Bebb turned many of her works into postcards or "Art cards" – one of the first artists to capitalize on their work this way. She lived to be 80 years old and died in London. She primarily signed her works "Rosa Bebb" and sometimes included the date.
This lovely book illustration by Bebb does include a beautiful white Persian cat but it is more portrait-like in appearance than many of her other works. This is no ordinary kitty. This is "Ch. White Heather," a noted prize winner. The book this illustration appeared in was published in 1903. It was written by Charles Henry Lane.
Thank you for visiting Free Vintage Art. Don't forget to Pin your favorite images!