The Young Gentleman
Doesn't this vintage illustration look like it would make a fine printable coloring page?
I sure think it does. I found it in a charming little book that strives to teach young men and women how to cure bashfulness. It dates all the way back to 1872. The book did not identify an author or illustrator. It was published by Seth Conly publishing house in New York.
In this coloring page printable image we have the young gentleman holding open the garden gate for a young woman. The pair appear to be either coming or going to school as they are both carrying several books. Both of the young people are wearing hats and jackets. We can't see his face, but her's bears an expression as if she's thinking, "Hmmm, what's this about? Suddenly he's a little gentleman."
It offers plenty of choices for coloring and could easily be made even more detailed. I hope someone finds it useful and I would love to see how it's used. I'm thinking it would be a great back to school piece or even one on teaching children manners – like how a gentleman opens the door for a lady.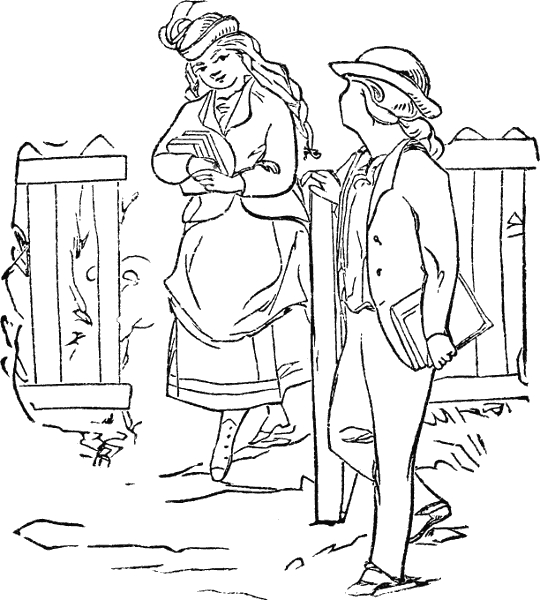 Thank you for visiting Free Vintage Art. Don't forget to Pin your favorite images!