Winter Landscape Engraving
When digging through materials to find public domain images, a great many of the engravings are simply not of a quality that I would think folks would be interested in using. But, every now and again I come across some great ones and this winter landscape engraving is among the best engravings I have seen.
I suppose the author of the book where I found it agreed that it is a fine example of the art of wood engraving, particularly since he was the engraver. (The sketch artist was only identified as Verrall.) R. J. Beedham's book, published in 1921, provided instruction on how to make wood engravings for printing purposes. He included several outstanding examples of prints made from wood engravings – perhaps chosen to show how beautiful these engravings can be when done by a master craftsman.
This winter landscape engraving does not have a lot of fine details. It was done with a thick circular frame. Considering the artist did everything by hand, the circle is pretty darn close to perfect. There's a bit here and there that looks a bit wobbly but I think it adds to the handmade feel of the piece. If you strive for perfection, just draw a black, unfilled circle around the piece and that should clean up the edges for you.
The circular frame surrounds a striking winter landscape engraving that has a few bare trees standing in the foreground. Behind the trees is the edge of a shadowy forest and beyond the treetops are a trio of mountain peaks. The entire landscape is covered with snow. The sun is not visible, but its rays criss-cross across the sky and down the sides of the mountains.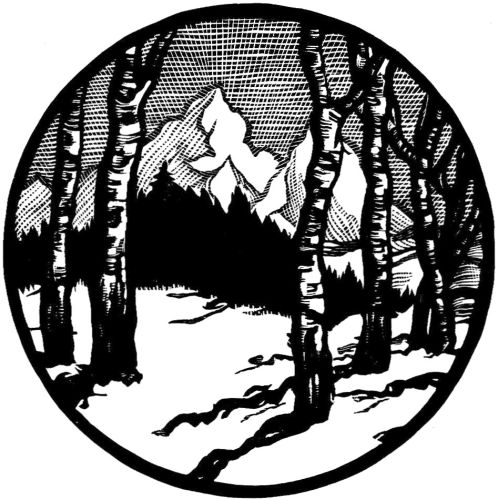 Be sure to check out our other landscape images including the related posts shown below.
Thank you for visiting Free Vintage Art. Don't forget to Pin your favorite images!