Feels Like Fall
The leaves are starting to turn into gold and the air is getting crisp. It feels like fall and that's one of my favorite times of year. I also thought it would be a great time to share a bit of vintage art from an artist that most of you have probably heard of…Claude Monet…as well as a bit of food for thought.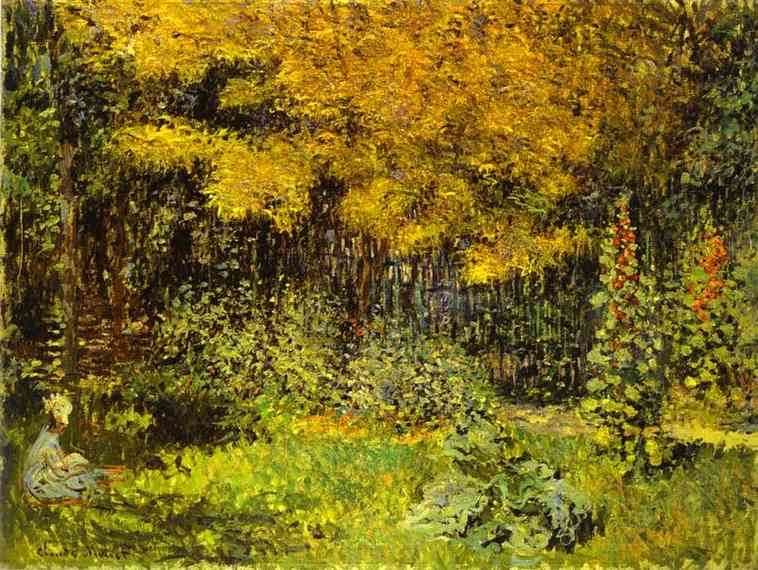 This painting is one of many Monet painted and entitled The Garden (Le Jardin). It was completed in 1876 and is of Monet's garden at his home in Argenteuil. The woman in the fall landscape painting is believed to be his wife, Camille.
Camille is sitting so quietly enjoying the day that she almost blends into the landscape.
The garden seems a little overgrown, a bit like our own. But, it creates an illusion of being in a room with green walls and carpets. A cluster of trees in full fall golden hues create a sun-like spot of light. And two tall flowering plants, maybe hollyhocks, have some late season red and orange flowers. The overall appearance is of a peaceful fall day. Camille, with a book in her lap, seems to be studying the lush landscape around her rather than the words on the page.
For such a peaceful fall landscape painting, this work has a bit of an interesting history. It is now housed at the Hermitage Museum in St. Petersburg Russia. The painting was one of many works of "art from private collections that were temporarily placed in German museums and after 1945 taken to the Soviet Union." I don't want to say something out of turn, but I wonder if the real explanation was that this painting was stolen by the Nazis and then part of war booty collected by a victorious army.
According to the Hermitage Museum website, there was a large group of materials "transferred from Germany after World War II" to the Museum that were inaccessible to the general public for over 50 years. Even art historians were not granted access to these works. Thanks to the magic of the Internet, the museum began making many of these works available online in 1996. The site didn't make it clear whether or not they are on public display in the Museum but at least they are now available for viewing online.
I guess we should be glad this work and the others ended up in a fine institution like the Hermitage rather than destroyed as the war came to a close.
Monet's fall landscape painting may remind us how we should perhaps spend more time marveling at the wonderful landscape around us instead of fighting over it.
Thank you for visiting Free Vintage Art. Don't forget to Pin your favorite images!