White Orchid Drawing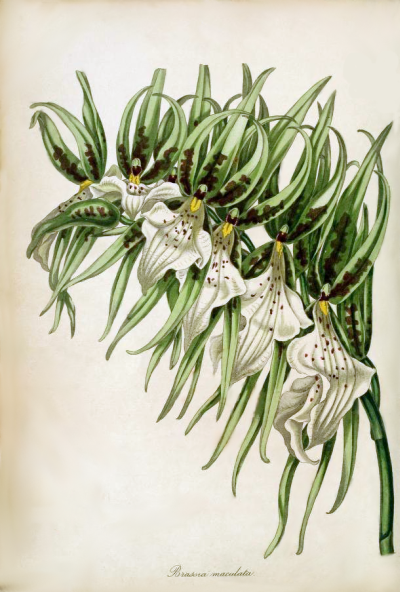 I think orchids are among the most striking of all flowers. But, I've never seen anything like this white, yellow and green orchid from Jamaica. It is among the genus that was dedicated to William Brass. Brass was an English botanist who cataloged a great many plants from Africa. Sir Joseph Banks and Drs. Fothergill and Pitcairn were his patrons.
This white orchid drawing depicts a species that is among the ones that are often called spider orchids for the way their flowers have long and narrow tendrils.
According to Sir Joseph Paxton (1803-1865), author of the magazine which contained this beautiful illustration, despite being able to be cultivated, they are often not cared for well enough to produce blooms this stunning. Those weren't his exact words. But, he did mention that in some collections it is not treated well because "its real beauty is never developed."
Luckily for us, some unknown artist has developed the real beauty of this white orchid. Brassia Maculata has base petals which remind me a bit of a spider plant. The green grass-shaped petals have a collection of brown spots near the bse of each petal. The flower then has a a pair of white petals with distinct vein lines and a scattering of small brown spots, primarily near the base of the petal. The center of the flower is a small spot of yellow. Overall, this orchid drawing is one of high drama.
I've edited out the foxing and water spots that were on the original piece for you. When I was working with the image to make it brighter, I liked the way the paper was worn around the edges. I kept that general appearance but smoothed it out a bit to make it more shaded and less splotchy. I hope you like what I've done and can make use of this beautiful white orchid drawing on one or more of your own projects.
Thank you for visiting Free Vintage Art. Don't forget to Pin your favorite images!