Chinese Flower Print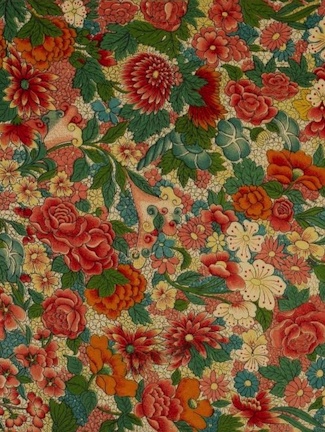 Wow. Is this not the most bright and bold vintage floral image that you've seen in a long time, if ever? Bright reds, greens and pinks with pops of yellow, orange and turquoise make this Chinese flower print a real stunner.
I resisted the temptation to do too much editing on this one. But, trust me when I say that changing the brightness, shadow and saturation will make the colors truly leap off of your computer screen.
This image was included in an 1867 book on Chinese ornaments.
This pattern was actually found on a large china cistern and the author indicated it was actually more of an Indian design. How fancy for something used to collect water. Tells you how treasured water was or how frivolous the owner might have been. I'm not entirely sure which.
I keep staring at this image trying to figure out something I could do with it.
Please let me know if you have any ideas. I would love to share them with others. We could also include a link to your work, if you would like.
There's a ton of more great Chinese and India designs in this book and I can not wait to share more of them with you. Check back and you'll be bound to be dazzled by the bold and vibrant colors of the other all-over Chinese flower print designs like this one.
Thank you for visiting Free Vintage Art. Don't forget to Pin your favorite images!