Dahlia Flowers Drawing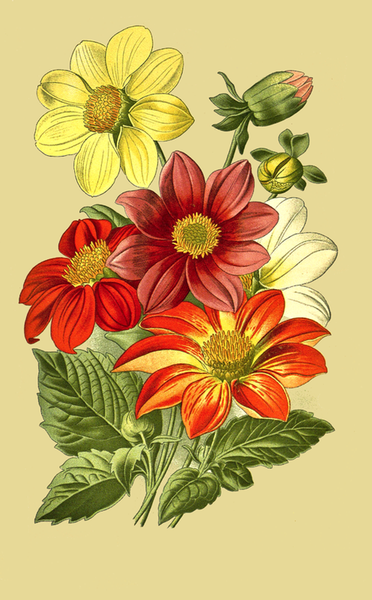 This is one of the most striking book plate images I've seen in a while. It dates back to 1896 and was included in a book about our favorite flowers of the garden and greenhouse. It's a shame that the artist wasn't identified. That means this vintage dahlia flowers drawing is in the public domain in the United States but may not be copyright free everywhere.
The book plate had a label of "single dahlia." I'm not sure that's an apt description when this flower drawing has five beautiful blooms – one white, one yellow, one red, one maroon and one orange flower. There also are two buds one of which looks like it would have bloomed pink.
I cleaned up the picture and sharpened the colors a bit for you. It is ready for printing. I've provided it at post-card size. Wouldn't this vintage dahlia flowers drawing make a striking addition to one of your projects?
Thank you for visiting Free Vintage Art. Don't forget to Pin your favorite images!