Vintage Look Thanksgiving Placecards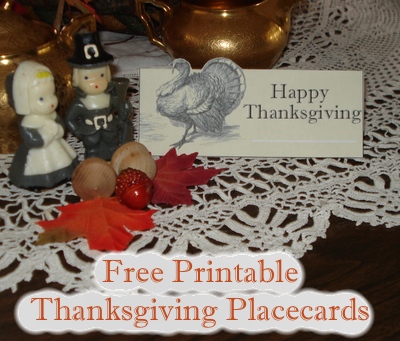 A little something different. A little vintage turkey for your Thanksgiving Day dinner table with these vintage look Thanksgiving Placecards.
The turkey drawing was part of the cover illustration from the October 12, 1895 edition of Punch, or the London Charivari. It's rare that I find what I think are usable images from that great magazine. There are so many wonderful illustrations in every issue. Unfortunately, most of them are political cartoons or too strongly tied to the stories. The turkey was part of a political piece. But, I thought he was so stately and beautifully drawn that he was worth saving. And, I thought, why not include him as something more special than a vintage bird drawing?
Free Printable Thanksgiving Place Cards
I thought it would be cute to take that 1895 turkey drawing and turn him into Thanksgiving Placecards. The design is a bit on the large size. It prints at 5 3/4 wide and 4 1/2 inches tall, but stands only 2 1/4 inches tall. You can add a person's name and the larger size should make it easier to see for family members who might be having a little more trouble seeing this Thanksgiving.
I used a Mac to create them and the font is Imprint MT Shadow. The background color, should you wish to change the font or message, is #F5F4CD or RGB 243, 242, 194.
Once you have printed the cards, you'll need to trim around the turkey's head and tail. Just slice through the paper with a craft knife, you don't have to remove any of the card. Then fold the card in half where the beige and white areas meet. Watch the magic when the turkey appears to stand up after you fold the card. Yeah, I know not really magic, but I still think it's cool.
I've included a black border around the card for cutting – I'll leave it to you to decide to cut along the outside or inside. Either way works.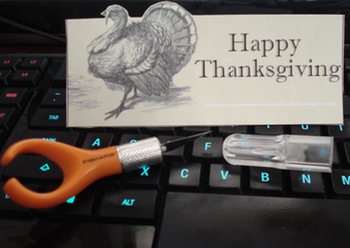 I tried using a finely pointed scissors and a craft knife to cut out around the head and tail. I had the best luck with my Fiskars Fingertip Craft Knife
. Mine needs sharpening or a new blade (see the slightly rough cuts on my Thanksgiving place card) but I do love the convenience of this little knife.
I keep it in my desk drawer. The safety cap means I don't have to worry about having accidents.
They also make a swivel model that has mixed reviews, but the rotary cutter looks very cool – Fiskars Fingertip Control Mini Rotary Cutter, Green
. Fiskars was clever enough to put different colored handles on each of these little knives to make them easy to tell apart. They are meant to hold with your finger through the hole. I don't do that but it works great when held like a regular craft knife.
Without further ado, here's the vintage look Thanksgiving placecards printable. They are big enough that they can stand easily when printed on regular copy paper. Heavier stock might stand firmer but it might make the trimming a little harder.
Here's wishing you and your family a safe and blessed Thanksgiving Day.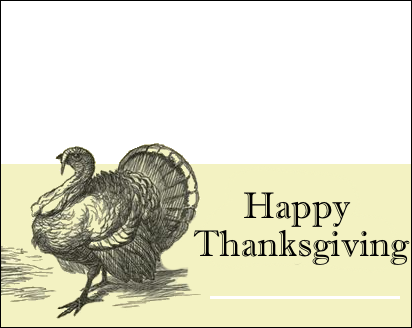 Thank you for visiting Free Vintage Art. Don't forget to Pin your favorite images!