Thanksgiving Still Life
This Thanksgiving I'm adding a great new Ellen H. Clapsaddle postcard. It features a Thanksgiving still life and Best Wishes for a Happy Thanksgiving. With a bit of editing, I've cleaned up some of the edges and brightened the colors a bit. Clapsaddle may or may not approve but I think the colors are a bit prettier now.
Ellen Clapsaddle (1865-1934) was an American artist most well-remembered for her beautiful artwork on postal cards. This is just one of the over 3,000 cards it is believed that she created during her career. The card features a large orange pumpkin, two ears of bright yellow corn and a bunch of red and green apples. The fruit is sitting on a bed of grasses and grains. The original card had gold overlays on some of the stalks of grain and around the outer edge. You could make it more dimensional by adding a bit of gold glitter around the edge or leave it as it is now.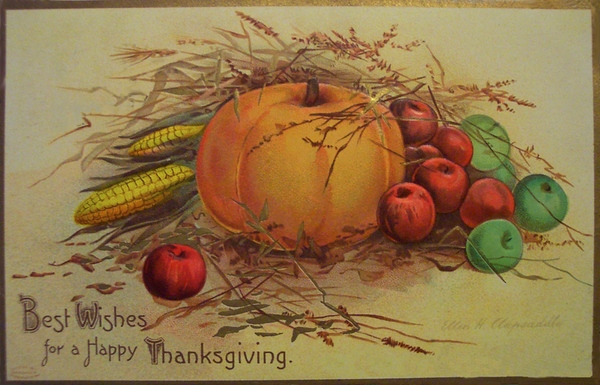 Thank you for visiting Free Vintage Art. Don't forget to Pin your favorite images!