Vintage French Wallpaper Design
What a lovely vintage French wallpaper design I have to share with you. It comes from a book by Kate Sanborn. Released in 1905, her work Old Time Wall Papers included a number of nice, full-colored examples of wallpaper.
The design used 17 colors and shades on a brown background with a black mesh overlay. This might have once graced the walls of a Massachusetts governor but alas, the author was a bit too fond of her own pedantic writings and it is unclear if a similar pattern graced those walls or this was the actual one of which she lamented.
Regardless of the author's odd writings, we have this fine vintage French wallpaper design to enjoy and use in our own creative endeavors. With bright orange, yellow, red and turquoise colors, this section of wallpaper is quite lively. We have a pair of young people dancing among a bower of flowers and beneath of tree with red fruit. The mesh overlay is a bit of an odd touch but it does make the overall piece seem less frivolous somehow.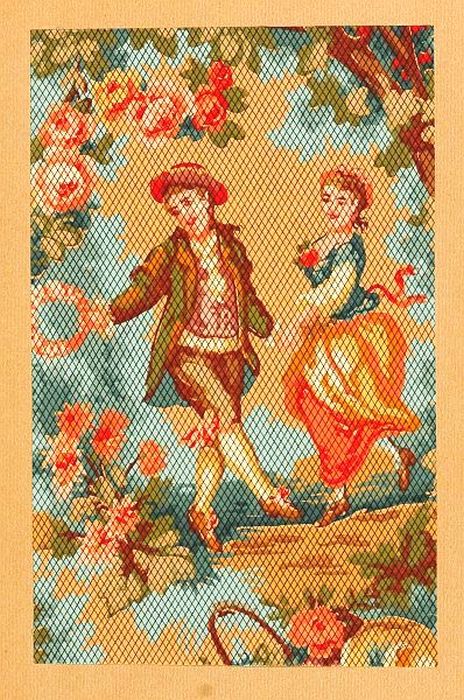 Thank you for visiting Free Vintage Art. Don't forget to Pin your favorite images!