Coordinating Wallpaper Set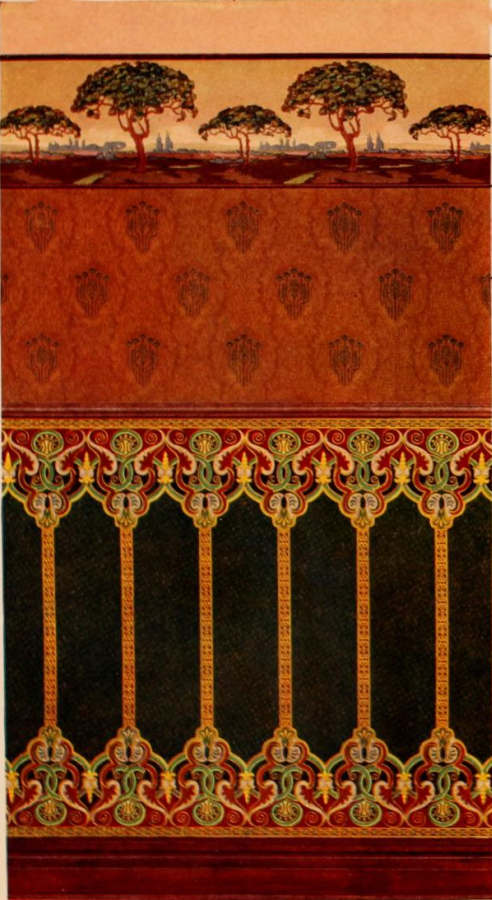 These vintage wallpaper designs are from an wallpaper catalog by the Henry Bosch Company. Suggestions for modern interior decoration was published in Chicago in 1906.
The catalog shows how painted surfaces, woodwork and several different pieces of wallpaper can be combined on one wall and ceiling.
This particular combination was recommended for dining rooms and libraries. It features rich red, green and gold tones with a border of trees at the top, a bit of molding, a second patterned paper, plate rail, and then panel filler with a separate decoration paper on the top and bottom framed at the bottom with baseboard molding. With four different wallpaper patterns to comprise this design, I imagine only the wealthiest of homes could have been decorated in this manner.
The original plate is shown on the right. All of the featured wallpapers repeat nicely but unfortunately, they have repeats of varying widths so that this image doesn't tile.
What I have done for you is to separate and group the sections that can be tiled together but I'll leave it to you to find the exact repeats or just paste them together to create a larger pattern. (Depending upon the width of your browser window, you may need to scroll down the page a bit to see the separated wallpaper images.)

The repeating tree wallpaper design is fairly easy to spot. This pattern section includes 2 and 1/2 repeats and shouldn't be that hard to match.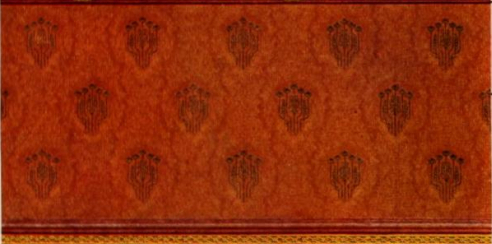 This semi-floral wallpaper has a fairly short repeat which would make it a great choice for a website where you want to design to repeat on both the x and y axis. I included a bit of the gold pattern at the bottom because I thought it framed the design nicely. If you want to use this as an all-over pattern, you might want to trim it off.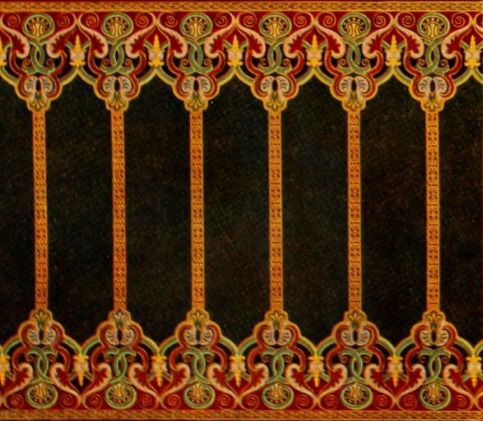 This is the section of the vintage wallpaper design that is the finishing touch for the wall. It's the one that pulls all of the colors together and makes a dramatic statement. It's no wonder that it was actually created using two different wallpapers. The repeat is fairly easy to match but I'll leave it to you to do the trimming to make this a truly seamless, repeating pattern.
Thank you for visiting Free Vintage Art. Don't forget to Pin your favorite images!