Valentine Greetings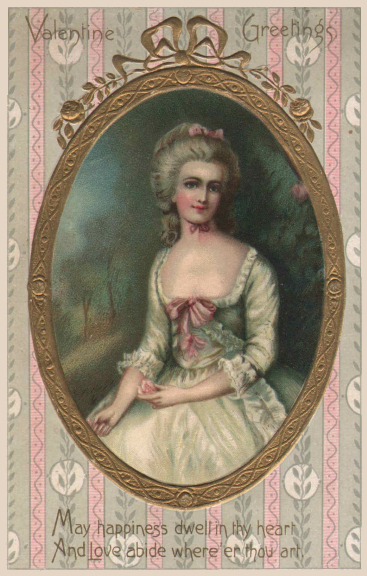 Valentine Greetings
May happiness dwell in they heart
And Love abide where'er thou art.
The Valentine Greetings expressed by this vintage postcard were mailed in 1909. If I had to guess, the lady's portrait is from an earlier time. Too bad there's not a visible signature by the artist. The lady's portrait is surrounded by a raised gold-embossed frame. The gray, white and pink background looks similar to wallpaper of the era.
With this vintage Valentine postcard, you get a trio of things that you could use for your own projects, the background, the golden frame and the lady's portrait. We've isolated the lady for you, we'll leave it to you to isolate the other pieces.
Thank you for visiting Free Vintage Art. Don't forget to Pin your favorite images!