Vintage Valentine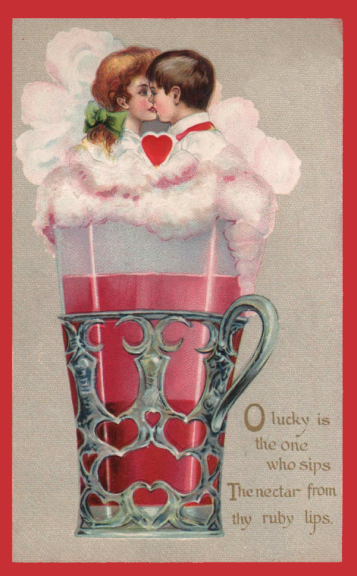 O lucky is the one who sips,
The nectar from thy ruby lips.
Undated and without a maker's mark, we suspect this vintage Valentine is safely in the public domain as it appears to have been mailed in 1911.
In this holiday card, there's a young couple, perhaps sharing their first kiss. Surrounded by fluffiness, the Valentines are a bit lost among all of the whiteness surrounding them.
My father, as a teenager, was a soda jerk. He didn't talk about it much but he did once talk about how tricky it was to create a two-tone drink like the one included in this vintage Valentine. He seemed quite proud that he had mastered the technique.
Perhaps there's someone special in your life who would love to receive a card such as this one. Or perhaps it would work well in a scrapbook or mixed media project. Either way, it appears to be in the public domain and can be used however you wish.
Thank you for visiting Free Vintage Art. Don't forget to Pin your favorite images!