Valentine Scrapbook Page Template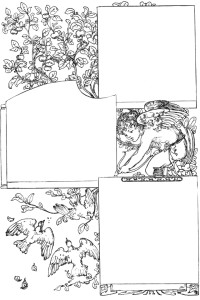 This Valentine Scrapbook page template came from a magazine published in 1894. It originally had some photographs of small children. One of the little girls was stunning, another was pictured with her dog but had a very stern look on her face and the but they weren't really all that cleanly printed and besides I think by removing those drawings this template offers you far more creative options.
The black and white line drawing is even more fun for a scrapbook page template because it can double as a coloring page. How fun, you could watercolor in this image and then add your own photographs or additional artwork?
Cupid is getting ready to shoot his arrow. With three boxes for photos, I could just see the first two being used for a young woman and a young man and the third feature them together as a happy couple. Maybe even have photos of the two as children. There are so many ways you could use this free printable scrapbook page template that it would be easy to turn it into something truly unique.
Along with Cupid, there is a pair of birds in flight in the bottom left corner and at the top of this printable Valentine's Day scrapbook template is the branches of an apple tree. There are lots of leaves and apples for you to colorize. The bottom picture frame also has a small heart banner to further remind the viewer that this entire page is about love.
This is a large page-sized image. The one I'm showing here isn't full-sized. Just click on the image to view the original image.
Speaking of love, I do hope you consider sharing the love of this printable image from Free Vintage Art by letting everyone know where you found it.
Thank you for visiting Free Vintage Art. Don't forget to Pin your favorite images!