Valentine Greeting – A Slightly Modified Version
This vintage image comes with a bit of a story. I was working with a vintage Samuel L. Schmucker illustration. It was used for a beautiful John Winsch holiday card and Valentine Greeting. The illustration was absolutely beautiful…except, uhm, the pretty blond woman looked as if she was no longer in need of a Valentine. My family laughed and said, "You can't use that, she's asleep." (Let's just say it that way and not go further.)
What drew me to the card in the first place were the splashy watercolor flowers above and below the woman. With a little modern graphics work, we have a much smaller, but, far prettier version of the original Valentine Greeting.
I retained the shabby, vintage look of the original; including the Valentine Greeting message. A lightly colored stone mosaic provides the background for what appear to be flowers and vines growing along a wall. The flowers are pinks, reds and yellows. Two pairs of red hearts, with gold edging remind us of the romance of Valentine's Day.
Hopefully, you'll enjoy Schmucker's work and won't mind my bit of editing.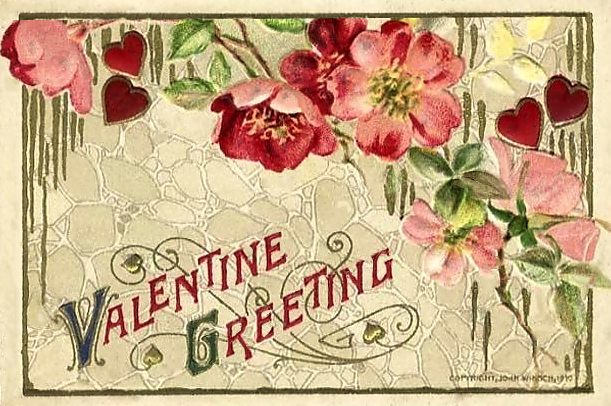 Thank you for visiting Free Vintage Art. Don't forget to Pin your favorite images!