Thanksgiving Plenty Drawing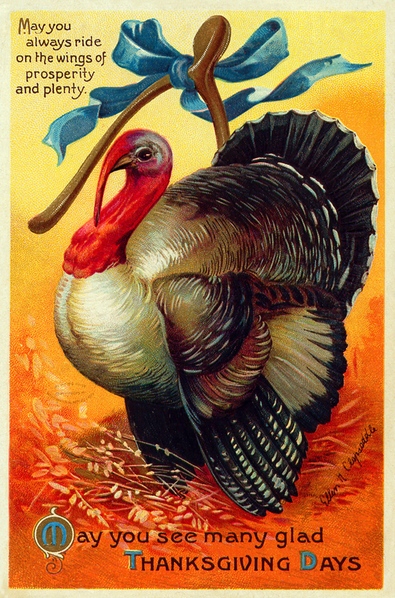 I love this vintage Thanksgiving Day postcard. The sentiment is lovely but the colors are absolutely striking. So many of the cards from this era have a slightly muted coloring to them. As with many of the vintage holiday cards that I have shared with you here on FreeVintageArt.com, this is the work of the American artist Ellen H. Clapsaddle (1865-1934).
The card is inscribed with the message, May you always ride on the wings of prosperity and plenty. May you see many glad Thanksgiving Days. Those nice sentiments are written on a postcard that has a bright yellow and orange background. A large turkey stands among some grains and grasses looking quite proud and lovely. Behind the turkey is a large wishbone tied with a blue bow. In a way, it's a shame Clapsaddle included the wishbone because it takes away from the turkey – it's so beautifully done.
This Thanksgiving plenty drawing would make a great holiday printable for Thanksgiving whether you live in the United States or Canada. Enjoy.
Thank you for visiting Free Vintage Art. Don't forget to Pin your favorite images!