Poinsettia Drawings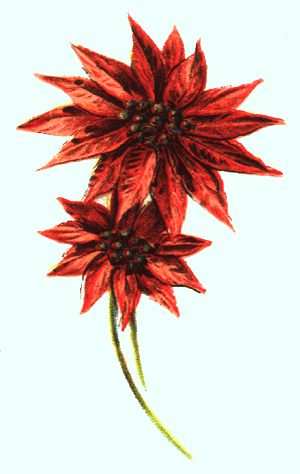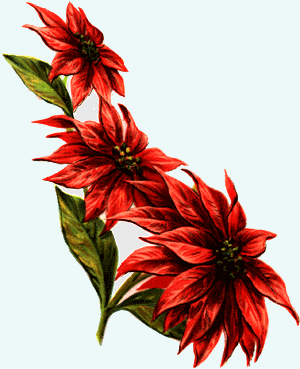 Today I am sharing with you a trio of pretty poinsettia drawings. They are all from a vintage book of Christmas poetry that was entitled "Christmas Sunshine".
How apt that a book called "Christmas Sunshine" would have so many lovely poinsettia drawings. All three are transparent ping files which should make them easier for you to use with your own Christmas projects.
The poinsettia plant is a native plant of Mexico and Central America and there are over 100 cultivated varieties. Yet, the plant is actually named for the American who discovered it – Joel Roberts Poinsett (1799-1851).
The Mexicans called the plant Flor de Noche Buena (Christmas Eve flower) but the Americans associated the plant with Poinsett, the amateur botanist who brought the plant back to the United States in 1825. That association led to the plant, with its beautiful red leaves/flowers, being called the poinsettia. Poinsett was the 15th United States Secretary or War and was the first United States Minister to Mexico – not exactly the type of fellow that you would immediately think a Christmas flower was named for.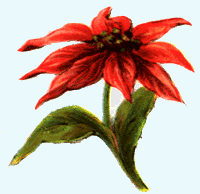 The association of poinsettias with Christmas is believed to stem from a 16th century Mexican legend. The legend tells of a young girl who was too poor to purchase a gift as part of the local birthday celebration for Jesus. An angel inspired the girl to gather weeds and place them by the church altar. The weeds flourished and bloomed – they were poinsettias.
Gutenberg.org is reporting that the book in which these poinsettia drawings appeared in is in the public domain in the United States. As the book was published with no more information than the name of the publishing company, I am assuming, by sharing it with you, that the folks at Gutenberg already did the research. Anyone outside of the United States may want to be cautious using these poinsettia drawings for any public or commercial use.
Thank you for visiting Free Vintage Art. Don't forget to Pin your favorite images!