Rural Scene Wallpaper
Vintage sample a rural scene wallpaper from a 1905 book. Kate Sanborn talks all about Old Time Wall Papers in her book and thankfully a number of the examples were provided in color.
The design is somewhat roughly printed using 11 colors on a gray background. It is clearly not the entire pattern but what we do have is a complete barnyard scene. We have two women picking apples from the tree and the ground. Nearby, a pair of chickens and a rooster look for a snack The barn and farmhouse are in the background. The colors are generally green, pink, blue, yellow and brown. It reminds me of some of the paper my grandmother had in her house. The paper was designed to look like a tapestry. It was used just like a tapestry would be – for decoration and to help insulate walls.
There are a number of elements from this rural scene wallpaper design that could be used independently. Or, you could use the original sample as Sanborn shared it with us all.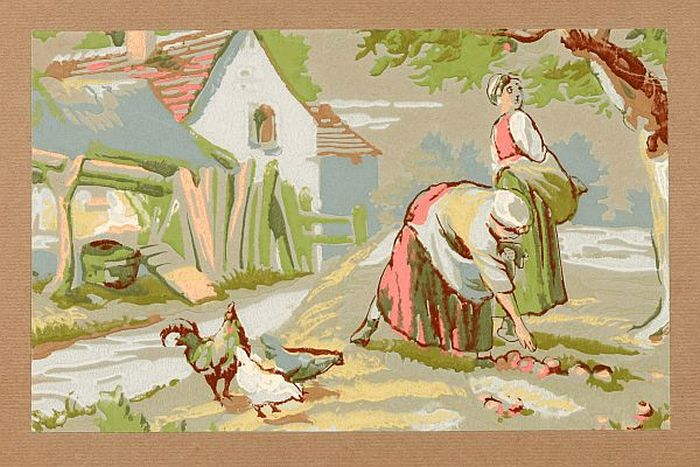 Thank you for visiting Free Vintage Art. Don't forget to Pin your favorite images!