Pink Rose Photograph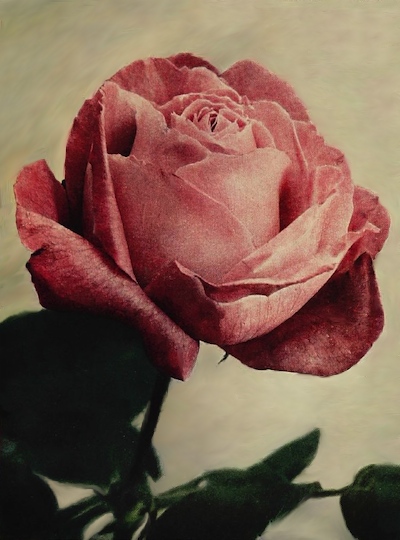 The nine inches of snow we received last week, during the "storm of the century" was beautiful for a while. Now it is becoming a slushy memory as the temperature are rising to unseasonably warm heights. One of our local garden centers already seems to be starting to gear up for the growing season. What a better time to post a beautiful vintage rose photograph?
This pink hybrid tea rose photograph is from a book that dates back to around 1911 that was all about gardening and roses. The text didn't make it clear if this particular variety was actually called Mrs. John Laing or if that was the owner of the rose bush which produced beautiful flowers such as the one shown here.
Colored photography did exist in 1911 but I suspect the original background of this photograph may have been altered by hand. It wasn't as crisp and clear as the flower and the scan made it quite pixelated. I went ahead and did mess with it a bit to create a more even look overall. I hope it works for anyone who would like to use it. I also think it would be fairly easy to just go ahead and remove the background completely if that would be better for you.
This is one of a number of beautiful rose photographs from the same book. This pink rose photograph is one of my favorite flower images here on Free Vintage Art as the details of the flower are so clear.
Thank you for visiting Free Vintage Art. Don't forget to Pin your favorite images!