Romantic Couple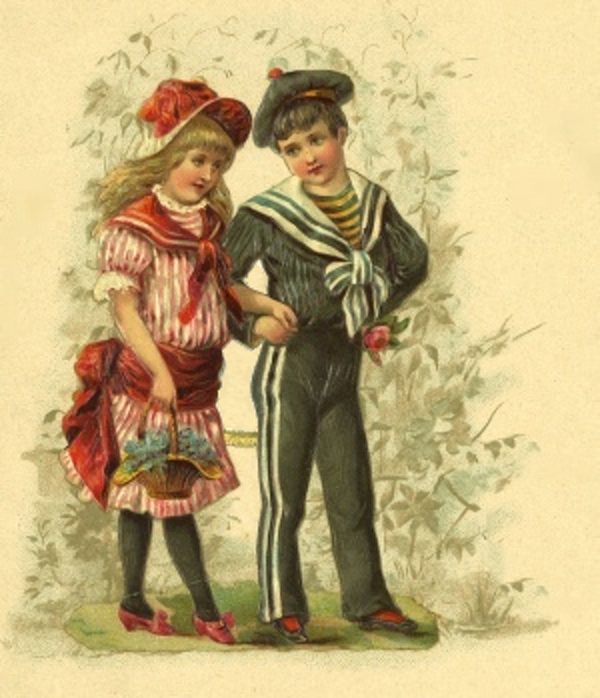 Here we are the day before Valentine's Day. We're buried under about 8-9 inches of snow. The sun just peeked through the clouds. It's a beautiful day, as long as you don't have to leave the house and your power stayed on. And, there's this charming vintage image from a piece of stationery. We know the stationery dates back to 1890 because that was the date on the letter written on it.
How charming does this young couple look? They only have eyes for each other, the blue flowers in her basked and the red rose in his hand seem forgotten. She's wearing a red and white striped dress and he is wearing a blue and white sailor suit. Don't you just love the red socks he's wearing and the little bows on her red shoes?
The uniform-like sailor suit reminds me of the uniform worn by British sailors. It could be in fact a more European piece because it is included in the Netherlands National archive and the letter was written in Dutch. They have identified this piece as having "no known copyright restrictions".
Though this is a drawing, the overall appearance of this romantic image is one of a portrait. The background seems like just that, a background rather than scenery they may be standing in front of. It includes tall greenery done in faded colors which puts all the focus on the bright colors of the young people's clothing.
You might want to decrease the size a bit when using this vintage image. It will make the details a bit crisper. Other than that, I think it would make a great piece for Valentine's Day or a dating couple.
Have fun, enjoy, stay warm and be safe.
Thank you for visiting Free Vintage Art. Don't forget to Pin your favorite images!