Pink Flowers on Yellow Background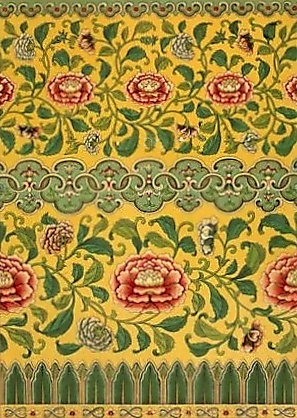 This is the second in what will hopefully become a nice selection of Oriental designs here on Free Vintage Art.
This pattern features pink flowers on a yellow background with green leaves and repeating patterns.
Can you imagine an elegant bottle decorated in a pattern like this? And where the repeating border/pattern in the center encircles the neck of the bottle? Doesn't it sound beautiful? That is exactly where this design comes from. Must be a beautiful piece. (If you ever visit the South Kensington Museum, you might find it on display somewhere.)
Like the first Oriental image on Free Vintage art, Chinese Flower Print, this image is bright and boldly colored. And, like that pattern, the authors of the 1867 book where these images appeared, believe it includes influences from outside of China. In this case, Persia.
Personally, I'm not sure it matters all that much where or who made the design other than it is full of big beautiful blooming pink and red flowers on a bright yellow background with tons of leaves, leaf-like elements and some doodle-like shapes along the bottom.
It does look like this example Oriental design included the full repeat but I will leave it to someone with more patience and mouse-skills to try and extract the repeat. Though, if someone does go to the trouble of doing so, I do hope they share it with me so that I can add it to this post.
Thank you for visiting Free Vintage Art. Don't forget to Pin your favorite images!