Black & White Frame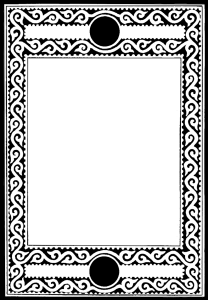 So many ideas, one fairly nice-sized black and white frame. Take any photograph or digital image and give it a bit of vintage flair by putting this vintage frame around it. With room for a description on the top and bottom, this frame is easily personalized. You could make it even more your own by adding a bit of color or using a gradient wash.
It was published in a vintage Dutch book on science. The foreword was dated 1916. It is the same book where I found a Christmas card frame template.
There's really not a lot to say about this one. It's a great size for printing. It's a rectangular shape. There's some pretty curly-cues and tooth-like edges. And there's a pair of circles for smaller images or your text. Best of all, I've turned it into a transparent .png so that you can easily print it on the paper of your choice.
What you are seeing on this page is a smaller version of this black and white frame image. To download the full-sized image, click on the smaller one and you will see the complete drawing.
Thank you for visiting Free Vintage Art. Don't forget to Pin your favorite images!