The Nativity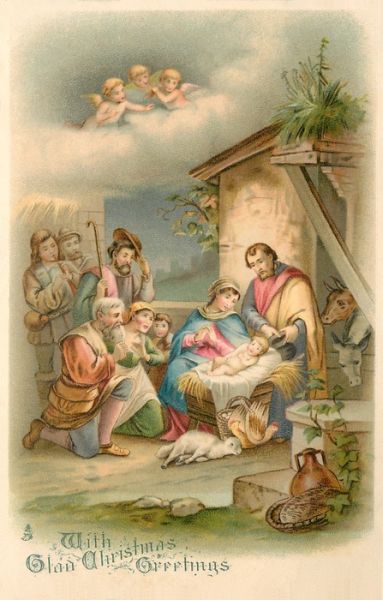 How could I have website that celebrates vintage Christmas images and not include images of the Holy Nativity? I already have a number of Nativity paintings on my site about famous artists, TheFamousArtists.com, but this is the first one here on Free Vintage Art.
I've been looking for a while for a nice Nativity image to share with you and many of the old Christmas cards were either too damaged, the images were too small or I just didn't really like them. It didn't surprise me when the one I finally found was from the Raphael Tuck and Sons Publishing company. The made so many wonderful postcards that I should have known they would have a picture as beautiful as this one to celebrate the birth of Jesus.
This Nativity image was printed for the 1903 Christmas season. It was designed by the publishing house in England and was printed in Bavaria, which seems to be the location where many of the postcard companies of the time had their pieces printed. It is a chromolithograph.
The Christmas greeting is quite small and somewhat faded. I've left it to you to decide if you would like to use it as is or add new text. It shouldn't be too hard with a clone or smear tool to remove the current text.
In this Holy Nativity image, we have Jesus in a manger with Mary and Joseph at his head. There are several other people on their knees in front of Jesus and at least one shepherd. We also have someone, perhaps another shepherd, playing the lute. In the shelter behind the Holy Family is a cow and a donkey. Lying at the foot of the manger is a small white sheep and a chicken in a basket. Above the entire vignette, three small angels look down from a cloud.
The colors remind me a bit of those Christmas Nativity sets by that Italian company Fontanini.
I hope you find this Christmas image and all of our holiday images useful. Do drop me a note if you make something fantastic with this or any of our other vintage images.
Thank you for visiting Free Vintage Art. Don't forget to Pin your favorite images!