Christmas Tags
Take a slightly beaten up post card from the early 1900s. Get rid of the battered bits. Smooth out some of the coloring. And, you get a great Christmas image to turn into gift tags.
Unfortunately, the publisher did not include their information on the back of this holiday greeting and the artist is not identified either. We know from the postmark that it was published sometime between 1900 and 1909.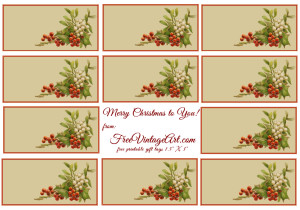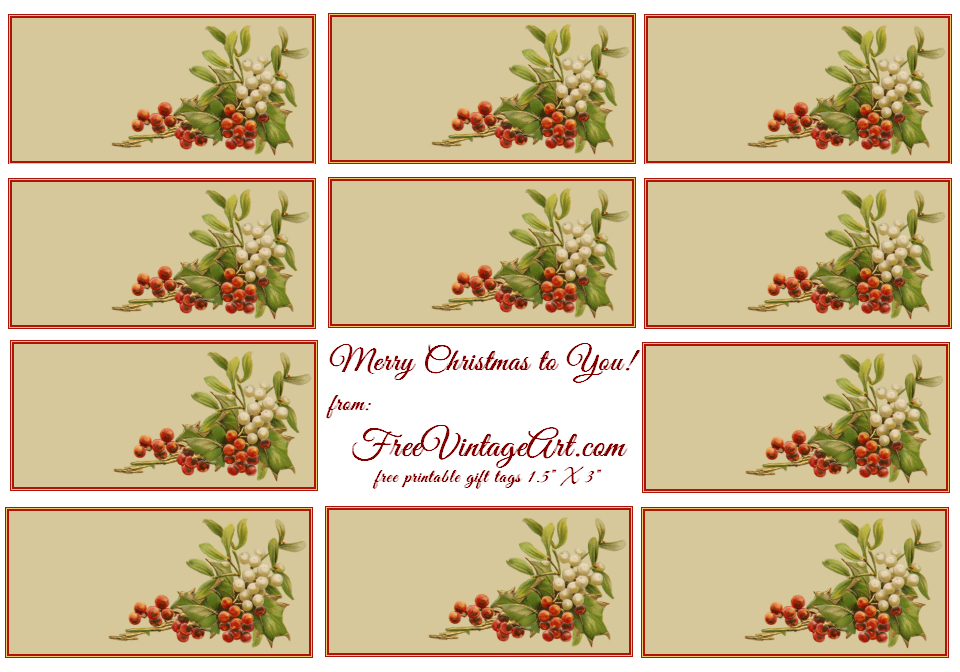 A few sprigs of mistletoe and holly with embossed gold, metallic accents make up the decoration on these printable Christmas tags.
The printable sheet of Christmas tags displayed in this post is a scaled down version – just click on it to be taken to a page with the entire image. Each tag measures approximately three inches by one-and-a-half inches.
Set your printer to narrow margins (1/2 inch around) and to landscape orientation and you should be good to go. Bring the sheet of Christmas tags into your favorite editor and add text to make a pre-printed and professional looking tag. Use a script or old-world style font face to match the vintage look of the holly and mistletoe.
Adorn your gifts with this bit of Victorian era artwork and you will sure to leave everyone wondering where you found such cool Christmas gift tags.
Thank you for visiting Free Vintage Art. Don't forget to Pin your favorite images!