Christmas Chaos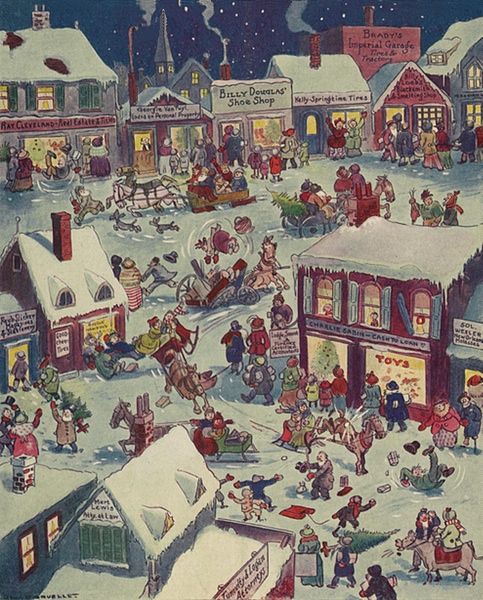 What is it about the Christmas season that so often lets total chaos reign? As we all rush around buying gifts, preparing dinner and traveling, things seem to always go wrong. And yet, for the most part, things work out and we can laugh about everything that happened in the years that follow.
Those themes would seem to be what John B. Gruelle (1880-1938) was thinking when he drew Christmas eve at Yapp's Crossing. It was the December 28, 1918 cover illustration. Gruelle, often referred to as Johnny B. Gruelle was the creator of Raggedy Ann and Andy. Yapp's Crossing is a fictitious town that is featured in many of Gruelle's pieces.
This drawing of Christmas chaos is a bit like one of those "can you find the ____" or Where's Waldo sort of drawings. There is so much going on that every time I look at it, I see something new. A cranky mile, someone slipping on the snow, people bringing home Christmas trees and an overall sort of happy chaos reign on the shopping district of Yapp.
If you are looking for something a bit different this year to use for your Christmas cards, this might just be the perfect image for you.
Thank you for visiting Free Vintage Art. Don't forget to Pin your favorite images!